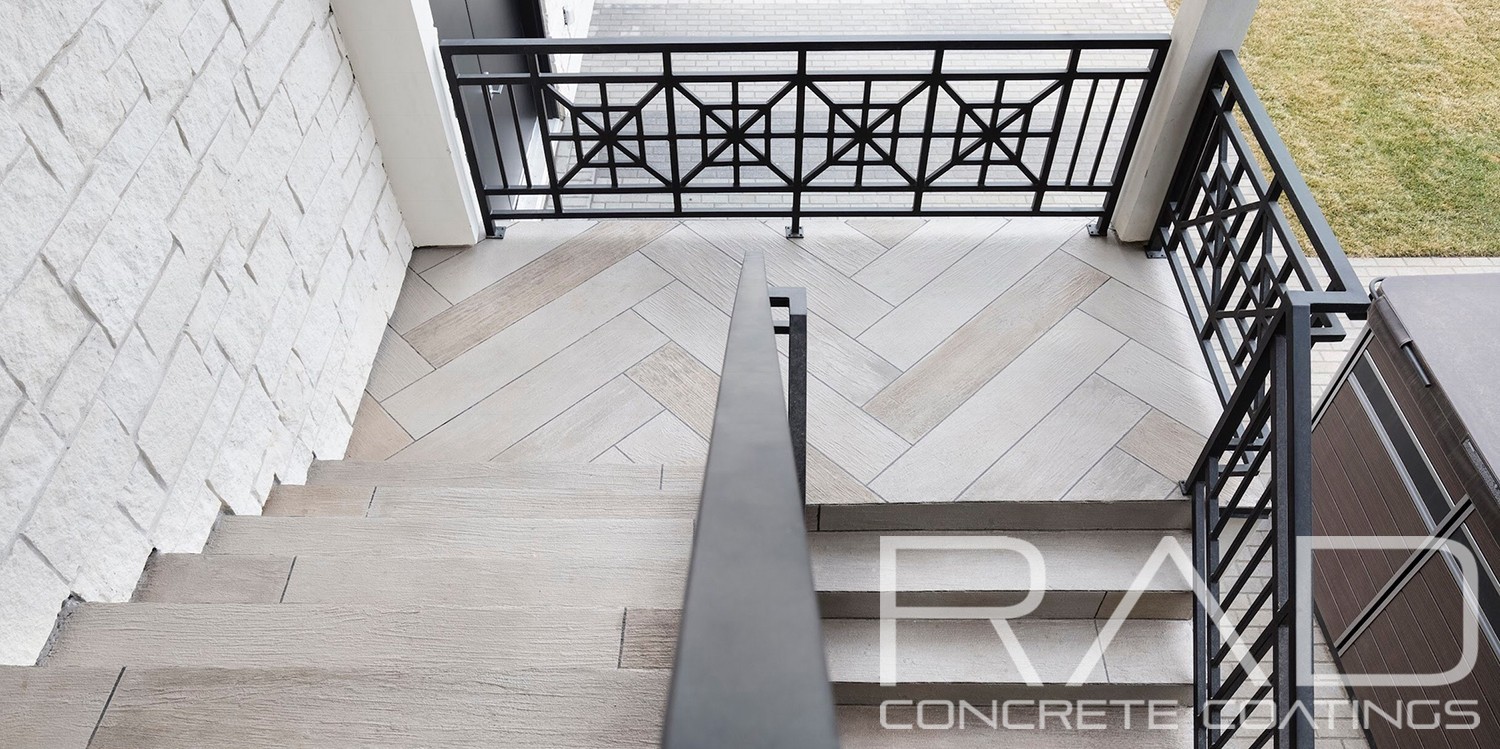 We recently wrapped up two amazing waterproof herringbone deck projects in Utah! We loved the chance to work on these projects and have had multiple inquiries about the details of these beautiful decks, so we thought we'd answer some questions here!
For both deck projects we used the Miraflex 2 Decking System by Miracote for our waterproof overlay deck coatings in a herringbone pattern. We used this system because it provides an extremely durable waterproof deck surface and also allows us to customize the decorative finish. As you'll see in the images below, we were able to customize the color. Our clients both wanted the herringbone pattern, and we were able to deliver the design with the added durability. The Miraflex 2 Decking System is a multi-layered coating that consists of a waterproof membrane, cementitious underlayment and formulated resins. We love the ability to customize the waterproof deck finish without compromising on quality. This system is great for new deck construction as well as deck renovations.
We're able to customize this herringbone waterproof overlay deck coating for any project. We can apply any of the colors in our Miracote Color Chart and then use stains to blend and make the coating look incredibly realistic.
WATERPROOF HERRINGBONE DECK OVERLAY PROJECT GALLERY
These are herringbone deck coating images from our Parade of Homes project:
Gallery from our project in Alpine, Utah:
We love the way the herringbone pattern looks on both of these projects in Utah. We're excited to offer this type of trowel stencil finish and can't wait to try out different color options and variations with other homes and businesses in Utah. This herringbone pattern can be used on patios, decks, garages, and even driveways–basically anywhere you can put concrete!
View some of our other similar projects on our waterproof deck coating gallery here »
WHERE ARE THESE HERRINGBONE DECKS LOCATED?
One of our waterproof deck coating projects was in Alpine, Utah at the Osmond Residence. We worked with our client to get the design the way they wanted it, in the color they wanted.
The other project was for the E Builder's 2017 Parade of Homes house in Cottonwood Heights, Utah. We love working on Parade of Homes projects and this was no exception! The herringbone deck on this house looks amazing and overlooks the pool below and has a great view of the mountains. Check out more photos of the Cottonwood Heights home on the Parade of Homes website. Learn more about our friends at E Builders here »
HOW LONG DOES IT TAKE TO INSTALL?
Installing a waterproof overlay deck coating in a herringbone finish typically takes Rad Concrete Coatings about a week. We specialize in waterproof deck coatings and always do the job right, the first time! Our professional deck coating experts will make sure you get the deck you've always dreamt of.
GENERAL INSTALLATION OF WATERPROOF OVERLAY DECK COATING IN HERRINGBONE PATTERN:
Install a metal drip edge
Lay roofing paper and diamond metal Lathe
Use thousands of 1" crown staples every inch to secure the Lathe
Apply a Lathe Filler, then 2 coats of an elastomeric waterproof Coatings and a poly fabric
Apply a base coat of cement overlay
Apply designs and the second overlay coat
Sand, stain, and seal the deck.
Interested in a herringbone pattern for your deck, garage, patio or basement? Get your free waterproof deck estimate here or contact us for more details.